AUD managed to gain sustainable momentum over JPY that pushes the price higher with an intention to break above 80.00 area. Despite tepid economic report from Australia today, AUD managed to push higher against JPY with sustainable pressure that indicates the current market sentiment in the pair.
Ahead of high impact economic reports yet to be published this week, AUD was hurt by a downbeat construction report leading to slightly diversified sentiment among investors. Today Australia's Construction Work Done report was published with a slight increase to -3.1% from the previous value of -3.6%, much weaker than the forecast of a 0.6% gain. Construction spending in Australia took a surprise spill last quarter with a disappointing reading which indicates that the Australian economy is currently facing some headwinds. The value is the lowest since 2017 and such downside risk is expected to affect the GDP forecast for the year. According to Westpac Senior economist Andrew Hanlan, bottlenecks are a constraint or it may have been weather disruption. The Reserve Bank of Australia presented a bearish outlook for the domestic economy that might lead to 2 rate cuts this year which would lead to further AUD weakness.
Tomorrow Australia's Private Capital Expenditure report is going to be published which is expected to increase to 0.8% from the previous value of -0.5% and Private Sector Credit is expected to increase to 0.3% from the previous value of 0.2%. Both economic reports could reveal positive readings which may encourage strength for AUD. However, any worse print is expected to weaken AUD momentum.
On the other hand, the Bank of Japan being quite comfortable with the loose monetary policy. Recently Bank of Japan member Goushi Kataoka stated that BOJ must ramp up to achieve its inflation target as holding to the current monetary stimulus for too long can lead to excessive swings in the economy. According to Kataoka, the longer the monetary easing would take place, the more uncertainty the economy would face and the BOJ should take stronger monetary policy easing steps to achieve its 2% inflation target which is currently not being taken seriously. In January, annual core inflation was only at 0.8% which in comparison not quite up to the mark.
Moreover, Japan's economic reports published recently discouraged investors. Indeed, BOJ Core CPI at 0.5% did not meet the expectation of 0.6% and SPPI remaining unchanged at 1.1%. Tomorrow Prelim Industrial Production report is going to be published which is expected to decrease to -2.5% from the previous value of -0.1% and Retail Sales are expected to show a slight increase to 1.4% from the previous value of 1.3%.
Meanwhile, AUD found support from the positive economic reports and gain momentum over JPY because of downbeat economic data from Japan.
Now let us look at the technical view. After forming the Bullish Hidden Divergence, the price is currently leading towards 80.00 area with a daily close. If broken above with a daily close, a further upward move towards 82.50 is expected in the future. As the price remains above 78.50 support area with a daily close, the bullish bias is expected to continue.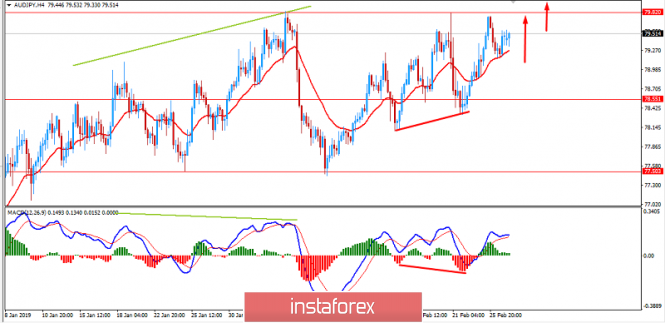 The material has been provided by InstaForex Company -
www.instaforex.com