Pound buyers, after all the hype with the Fitch Ratings and the postponement of the vote on Brexit, continue to gradually strengthen their positions, but growth is still limited by the upper limit of the side channel around 1.3095. It is best to return to pound purchases with correction from larger support levels around 1.3039 and 1.2989. However, a breakthrough and consolidation above resistance 1.3095 will strengthen the upward impulse and return the pair to the highs of 1.3152 and 1.3214, where I recommend taking profits.
To open short positions on GBP / USD you need:
Sellers in the first half of the day made a false breakdown in the area of resistance 1.3087, but this did not lead to a large sale of the pound, but only to a slight downward correction. After the pair returned to this range, having built a new resistance 1.3094. Only an unsuccessful attempt to get above this range will lead to a downward trend and the return of GBP / USD to a minimum of 1.3039 and 1.2989, where I recommend taking profits. When scenarios of further growth with the trend, you can open short positions from a maximum of 1.3152.
More in the video forecast for February 25
Indicator signals:
Moving averages
Trade remains at around 30- and 50-moving averages, which indicates the lateral nature of the market, but the advantage on the buyers side is the pound.
Bollinger bands
Bollinger Bands indicator volatility is very low, which does not give signals on market entry.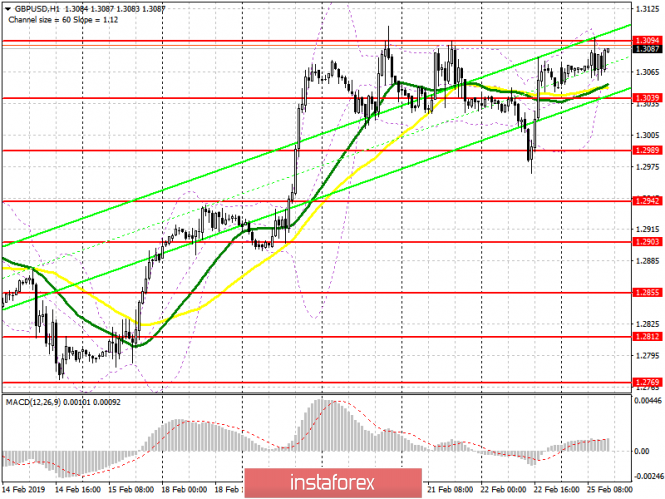 Description of indicators
MA (moving average) 50 days - yellow
MA (moving average) 30 days - green
MACD: fast EMA 12, slow EMA 26, SMA 9
Bollinger Bands 20
The material has been provided by InstaForex Company -
www.instaforex.com