The Australian economy has been struggling with an economic slowdown which has been proved by a series of downbeat data. The economy has been affected by a drastic fall in the housing market and the ongoing US-China trade war.
Today Australia cuts its annual immigration rate by 15 percent to adjust for urban congestion in an effort to cope with the economic drawdown. RBA Assistant Governor Bullock today stated in her speech that the central bank is working on the financial stability while undertaking analysis of the economy in various sectors. The Australian economy was improving with a good pace 6 months ago. However, an increase in the household debt and a slowdown in the housing and credit markets derail a steady economiv growth.
Though there are certain differences in various cities of Australia, the overall picture is gloomy. According to Bullock, vulnerabilities from the level of the household debt, the apartment development cycle, and the level of non-residential commercial property valuation still pose risks for the financial stability of the economy. The financial sector has remained quite positive. The focus of the RBA is to monitor closely the household debt and property markets in the medium term.
On the other hand, despite downbeat economic reports and FED's silence, recently the White House chief economist stated that US economy is on track to grow by 3% or more this year as the economy is still quite strong despite some challenges it is facing along the way. Ahead of a FOMC Statement and Federal Funds Rate report to be published today which is expected to be unchanged at 2.50%, USD is going to trade with higher volatile across the board. Today FED Chairman Jerome Powell is expected to be quite neutral in his speech today, but other FED officials are expected to be quite hawkish which may result in certain gains on the USD side in the coming days. Additionally, the FED is expected to shave the number of projected rate hikes this year and present a long-awaited details of a plan to end tapering the massive balance sheet.
Meanwhile, as the RBA is quite confident to tackle the current economic drawbacks, this stance may attract certain market sentiment in favor of AUD. If the Fed's policy meeting ends up with positive statements, further gains on the USD side is more probable under the current market conditions.
Now let us look at the technical view. The price is currently trading at the edge of 0.7050 from where the price managed to shoot higher earlier. The price recently formed Hidden Bullish Divergence which is expected to get activated after a daily close above 0.71. As the price remains above 0.7000-50 support area, further bullish momentum is expected in the coming days.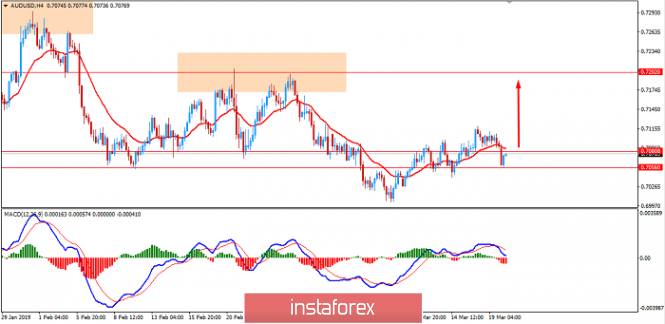 The material has been provided by InstaForex Company -
www.instaforex.com