EUR/GBP has been impulsive and volatile in the range of 0.8500 to 0.8650. Trading flat reflects market indecision at the moment.
The positive economic report on the UK GDP did not quite help GBP to gain momentum over EUR immediately. But in the coming days, the pair is going to trade under certain bearish pressure. Yetserday UK GDP report was published with a notable increase to 0.5% from the previous value of -0.4% which was expected to be at 0.2% and Manufacturing Production also expanded to 0.8% from the previous negative value of -0.7% which was expected to be at 0.2%. Moreover, Construction Output also showed a significant climb to 2.8% from the previous value of -2.8% and Industrial Output increased to 0.6% from the previous value of -0.5%.
Ahead of BREXIT, the market sentiment is still quite indecisive. So, despite a series of positive economic reports, GBP struggled to gain momentum over EUR despite an economic slowdown in the eurozone.
On the EUR side, ahead of BREXIT, EUR gains may be quite volatile as Brexit can affect economic growth in the eurozone to a great extent. Most of the industries are shifting to Europe. The eurozone's economy could benefit from such investments. However, relocation may take some time to impact the economy positively in the medium term. ECB policymakers want to reduce the dependency of the eurozone's banks on the central bank. The ECB is currently looking forward to providing access to multi-year loans to the banks. Besides, the regulator is serious about putting off monetary tightening as a step of reviving the fragile economy. Additionally, today Italian Quarterly Unemployment Rate is going to be published which is expected to rise to 10.5% from the previous figure of 10.2% and the eurozone's Industrial Production is expected to increase to 1.0% from the previous negative value of -0.9%.
Meanwhile, analysts have mixed expectations for pending economic reports from the euro area. As the UK provided upbeat macroecononomic data, GBP has a greater probability to regain momentum it lost recently. Though the BREXIT headwind caps GBP gains, GBP could gain certain momentum ahead of BREXIT.
Now let us look at the technical view. The price formed Bearish Hidden Divergence recently after counter impulsive momentum was observed. Currently the price is trading below 0.8650 after rejection off the area which is expected to lead the price lower towards 0.8500 support area in the coming days. As the price remains below 0.8650 area with a daily close, the bearish pressure is expected to continue further.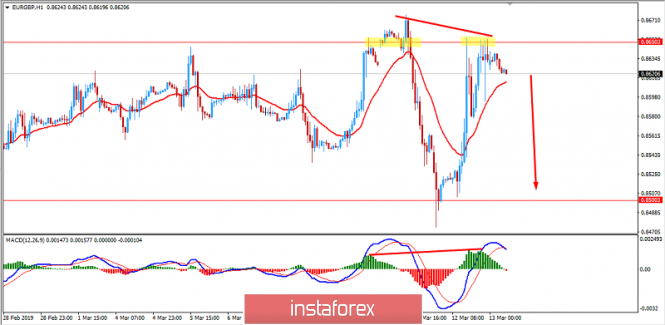 The material has been provided by InstaForex Company -
www.instaforex.com