Despite an economic slowdown in the eurozone, EUR was able to gain momentum over JPY recently which indicates severe JPY weakness.
The European economy's slowdown is turning worse than investors expected. The ECB has limited tools at its disposal to respond to lackluster performance while the European governments are also not quite active responding with spending that may lead to further weakness in the whole eurozone's economy. The downturn of the economy is turning more impulsive than ever. This requires proper measures. Recently Spanish Unemployment Change report was published with a significantly positive figure of 3.3k decreasing from the previous figure of 83.5k and PPI met the expectation of 0.4% from the previous value of -0.8%. However, EUR failed to push further against JPY. Ahead of the policy decision and the ECB Press Conference, the pair is going to trade with higher volatility. Positive outcome from the events may lead to certain fluctuation on EUR gains which might result in short-term EUR gains versus JPY.
Japan is currently pursuing ultra-loose monetary policy. Recently BOJ Governor Kuroda said that the Bank of Japan does not have a specific exit strategy yet because it would take significant time to achieve its 2% target of inflation. According to Kuroda, exit from ultra-loose monetary policy would require an interest rate hike and measures to shrink the BOJ's balance sheet like the Federal Reserve is doing now. Though the economy has been responding quite well, sudden changes might be required if needed. Recently Japan's Monetary Base report was published with a decrease to 4.6% from the previous value of 4.7% which was expected to decrease further to 4.5%. Ahead of high impact economic reports like Final GDP to be published this week, mixed expectations on the reports may lead to further weakness in JPY while the BOJ is revising plans to spur economic growth plans.
Meanwhile, EUR is facing severe weakness. It is expected to lose momentum further against JPY, whereas any positive economic data from Japan is expected to lead to further JPY gains. Until the ECB comes up with particular measures, EUR is going to trade with correction and indecision before climbing higher in the future.
Now let us look at the technical view. The price recently bounced off the 127.50 area with a daily close which is expected to lead to certain bearish pressure with a target towards 125.00-50 support area before climbing higher again. Recently the price formed Bearish Divergence which also supports the upcoming bearish momentum but does not indicate a strong counter-move to EURO gains. As the price remains above 125.00 area with a daily close, the bullish bias is expected to continue further.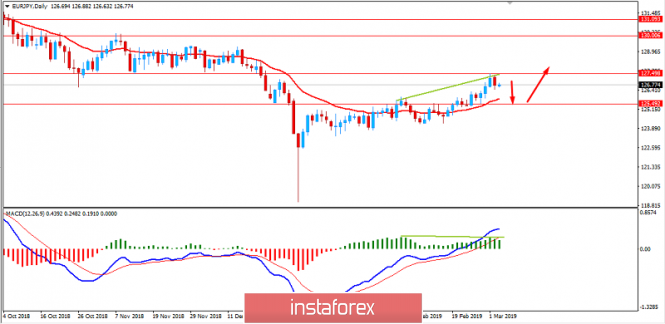 The material has been provided by InstaForex Company -
www.instaforex.com