The euro has been trading weaker against JPY recently despite the worse outcome of the Japan's reports and economic challenges. The economic slowdown and Brexit effect put the European currency under pressure.
Brexit may have a significant impact on the economy which may lead to further downward pressure in the market. Though the outcome of Brexit is still uncertain, it is possibile that the UK will have to leave the EU with no deal. It can exert an ominous effect upon the eurozone and the UK. Moreover, ECB President Mario Draghi is to leave office soon. It may lead to further volatility and uncertainty for the eurozone economy thus resulting in an economic slowdown. Additionally, Italy is preparing measures to boost the economic growth this year and may present mini-budgets along the way to get approved and worked on.
On the JPY side, Japan is facing export and import challenges which can cause certain weakness in the economy. At the same time, the BOJ is trying to reach its 2% inflation target. Japan has to rely heavily on imports for its energy requirements. Furthemore, the core consumer price index is affected by the dependency on oil prices. Besides, the US-China trade war dented the exports from Japan, and it also had an adverse impact on the economy. Recently, the BOJ Core CPI report was published with a decrease to 0.4% from the previous value of 0.5%. Meanwhile the SPPI increased to 1.1% from the previous value of 1.0% but failed to meet the expectation of 1.2%. Ahead of Tokyo Core CPI and unemployment rate reports to be published on Friday, which are expected to be unchanged, JPY is likely to struggle further in the process.
As of the current scenario, a slowdown in the eurozone is getting severe, so it can lead to further weakness in the process. At the same time, the yen managed to sustain its gains despite worse-than-expected economic reports. Ahead of Brexit decision on March 29th, any worse outcome is expected to lead to further gains on the JPY side while EUR may lose momentum.
Now let us look at the technical view. The price managed to gain certain momentum, having corrected its movement after the recent downward pressure. Bears are still quite aggressive. They may continue pushing the price lower, but a pullback towards 125.00-50 resistance area is expected before the bearish trend continues to dominate further in the process. As the price remains below 125.00-50 area, the bearish scenario is expected to remain valid.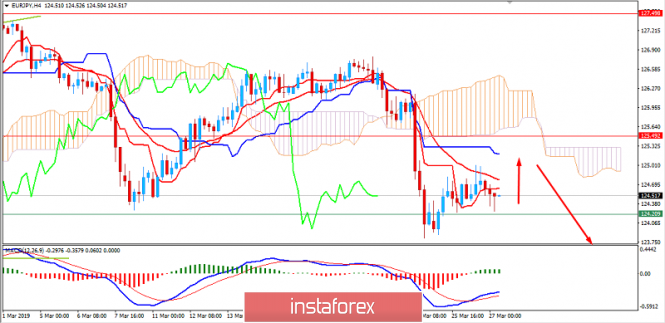 The material has been provided by InstaForex Company -
www.instaforex.com