BREXIT uncertainty is likely to end up with a no-deal option. However, it might be extended further than June of 2019 as well. Though, there is no final decision yet. GBP has gained momentum over USD recently amid negative economic reports and the Fed's unchanged interest rate.
After three years of debates, the BREXIT issue is still uncertain. Recently, UK Prime Minister Theresa May hinted that she might not bring her twice-defeated BREXIT deal back to the parliament this week. These rumors may cause some political unrest in Britain as well. The UK Average Earning Index report reflected decrease to 3.4% from the previous value of 3.5%, while experts anticipated to see 3.2%. The Unemployment Rate also dropped to 3.9%, even though it was expected to be unchanged at 4.0%. The CPI rose to 1.9% exceeding the expectations of 1.8%.
There are no other important publications anticipated from the UK ahead of the Parliament BREXIT Vote this week.
On the USD side, the economic challenges along with the FED deciding to keep the interest rate unchanged lead to significant weakness of the US currency against GBP. USD is trying to gain momentum in spite of low expectations regarding the final GDP data that is due this week. The index is forecast to slide to 2.4% from the previous value of 2.6%. Additionally, tomorrow's Consumer Confidence report is expected to indicate an increase to 132.1 from the previous figure of 131.4. The US economy is slowing down as the $1.5 trillion tax cuts arose along with reduction in government spending. Moreover, the trade war between the US and China together with a slowdown in the global economic growth and uncertainty ahead of BREXIT also add tension to the situation. Meanwhile, according to Fed's member Bostic, the interest rate may change despite the regulator's decision amid a need for economical stability.
Currently, the pair is expected to be extremely volatile this week as there is a plenty of important economic reports from the UK and the US anticipated to be published. As GBP is gaining momentum over the USD weakness, some short-term gains might be recordered ahead of BREXIT vote this week.
Now, let us look at the technical view. The price rebounced from the 1.31 support area, I expect the further bullish movement towards 1.3400. The bearish sentiment is still quite strong in the market amid of the BREXIT issue. Therefore, the trendline is anticipated to continue its bearish movement to 1.30 support area after retreating from 1.3400-1.3500 resistance area. The trend can be considered bearish, while the price remains below 1.3500.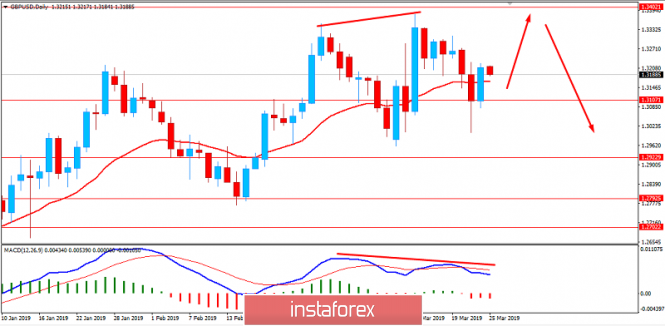 The material has been provided by InstaForex Company -
www.instaforex.com