GBP / USD. March 4th. Trading system "Regression Channels". Theresa May received new requirements regarding Brexit conditions.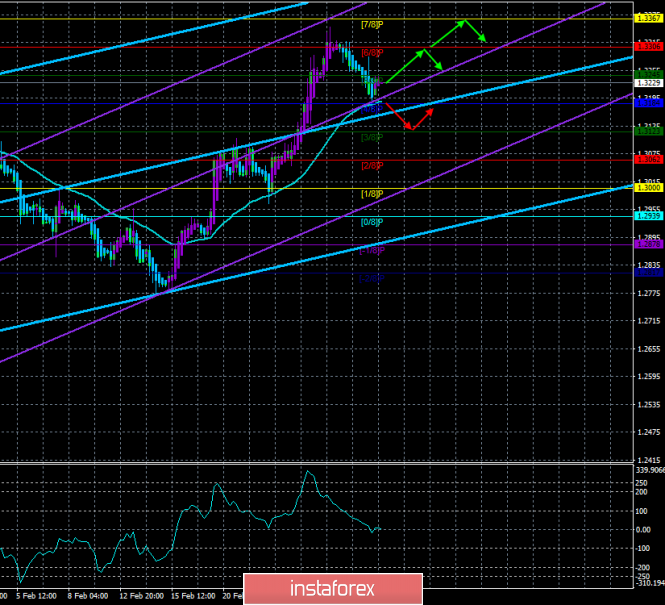 Technical details:
Senior linear regression channel: direction - up.
The younger linear regression channel: direction - up.
Moving average (20; smoothed) - up.
CCI: 1.6928
The GBP / USD currency pair has been adjusted to the moving average. However, it is difficult to overcome it yet. On Friday, it is not logical to strengthen the pound because of weak macroeconomic statistics that came from the United States. At the same time, we cannot also call the preceding growth of the pound as reasonable. Thus, we still recommend to pay attention to the technical factors. At the moment, the completion of the correction is indicated by the technician signals, the preservation of the uptrend, and the purple bars of the Heiken Ashi indicator. In the meantime, a new information has been received from the UK regarding the Brexit procedure. This time, several euro-skeptic parliamentarians turned to Teresa May with an ultimatum. The essence of which is that if the mechanism of "back-stop" is not clearly written down on paper and the precise actions of Great Britain in the event of the failure of trade negotiations with the EU are not spelled out, then its version of the agreement will not receive support during the voting procedure to be held on March 12. There is nothing new in principle. The issue with "backstop" remains at the cornerstone. And it is precisely due to the British Parliament's decision to refuse Theresa May's plan. Today, the index of business activity in the construction sector will be published in the UK and it can even have a certain impact on the movement of the pair.
Nearest support levels:
S1 - 1.3184
S2 - 1.3062
S3 - 1.2939
Nearest resistance levels:
R1 - 1.3306
R2 - 1.3428
R3 - 1.3550
Trading recommendations:
The pair GBP / USD has completed a round of downward correction. Thus, purchase orders with targets at 1.3306 and 1.3367 became relevant again. Heiken Ashi's turn down will indicate a new round of correction.
It is recommended to open a sell position if the bears are able to overcome the movement. In this case, there is a trend in the instrument changing it to a downward movement. The first goal will be the Murray level "3/8" - 1.3062.
In addition, the fundamental data and the time of their release should be taken into account to the technical picture.
Explanations for illustrations;
The senior linear regression channel is shown on the blue lines of unidirectional movement.
The junior linear channel is presented by the purple lines of unidirectional movement.
CCI is the blue line in the indicator regression window.
The moving average (20; smoothed) is the blue line on the price chart.
Murray levels - multi-colored horizontal stripes.
Heiken Ashi is an indicator signified by colored bars in blue or purple.
The material has been provided by InstaForex Company -
www.instaforex.com