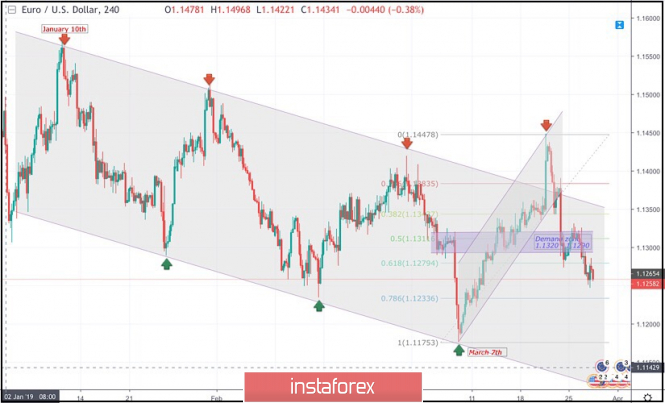 On January 10th, the market initiated the depicted bearish channel around 1.1570.
The bearish channel's upper limit managed to push price towards 1.1290 then 1.1235 before the EUR/USD pair could come again to meet the channel's upper limit around 1.1420.
Shortly after, the recent bearish movement was demonstrated towards 1.1175 (channel's lower limit) where significant bullish recovery was demonstrated on March 7th.
Bullish persistence above 1.1270 enhanced further bullish advancement towards 1.1290-1.1315 (the Highlighted-Zone) which failed to provide adequate bearish pressure.
Last week, a bullish breakout attempt was executed above 1.1327 (the upper limit of the current demand zone). This enhanced further bullish movement towards 1.1450 demonstrating a false bullish breakout above the upper limit of the depicted movement channel.
On the other hand, On Thursday, significant bearish pressure was demonstrated around 1.1380 leading to the current bearish decline towards 1.1260.
The short term outlook for EURUSD pair remains bearish towards 1.1235, 1.1180 and .1140.
Bearish persistence below 1.1280 is mandatory to pursue towards the next bearish targets. Otherwise, another bullish pullback would be demonstrated towards 1.1350 once more.
Trade recommendations :
Based on previous recommendations, for those who sold the EURUSD around 1.1385 should lower their SL to 1.1290 to secure some profits.
RemainingTP levels to be located around 1.1235 and 1.1180.
The material has been provided by InstaForex Company -
www.instaforex.com