The Australian economy is currently going through certain troubles. Oddly enough, weakness in the domestic economy is blended with strong employment data. Another amazing fact is that the stock market is rallying which the economic growth is coming to a standstill.
The Australian economy slowed down in the last half of 2018, but the healthy labor market managed to attract certain sentiment along the way. Despite the economic slowdown, the nation's benchmark index ASX 200 gained 10% in the first quarter of 2019 which is the highest performance in the latest three decades. Australia is experiencing the weakest economic period since the global financial crisis which was reflected in last month's GDP figure.
Yesterday Westpac Consumer Sentiment Index jumped to 1.9% from the previous value of -4.8%. Today MI Inflation Expectation report is published with a decrease to 3.9% from the previous value of 4.1%. Ahead of RBA's Financial Stability Review tomorrow, AUD is set to trade higher volatility that might lead to significant AUD weakness if the review expresses dovish rhetoric.
On the other hand, Japan's Current Account report revealed an increase to 1.96T as expected from the previous figure of 1.83T. However, Consumer Confidence Index and Economy Watchers Sentiment Indicator showed worse than expected readings which derived the market sentiment further away from JPY. Bank of Japan's Governor Kuroda is still quite optimistic with the economic growth despite the recent challenges of exports and imports on the back of the lingering trade conflict between the US and China. Additionally, Kuroda recently stated about the central bank's monetary easing to achieve its 2% inflation target. He also stated that the inflation will be accompanied by growth in corporate profits and wages which will not affect the economy but will help in the long run.
Today M2 Money Stock report was published unchanged as expected at 2.4% which did not quite help the currency to gain momentum over AUD.
Meanwhile, AUD is confusing the investors and traders as Australia's economic slowdown contrasts to robust employment and strong financial markets. AUD asserts strength over JPY. Nevertheless, in light of hawkish statements from the BOJ recently certain counter pressure may arise in the short term.
Now let us look at the technical view. The price formed Bearish Divergence in the volatile and corrective structure it created recently which is expected to lead the price lower towards 78.50 support area in the coming days. Though the previous trend is bullish, the price is expected to decline lower amid the counter trend correction. If the price remains below 80.00, the bearish pressure is expected to persist.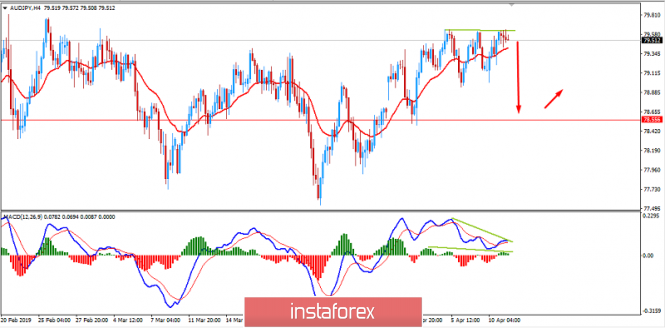 The material has been provided by InstaForex Company -
www.instaforex.com