The Australian dollar managed to sustain gains against USD which is expected to lead to further upward movements before the trend reverses lower with counter momentum in the coming days.
The Reserve Bank of Australia keeps a close eye on divergence of economic slowdown and strong labor market which is expected to deviate the upcoming interest rate decision in the coming days. The Australian economy slowed down in the last half of 2018, but the positive employment report managed to attract certain sentiment along the way. Recently, the Westpac Consumer Sentiment showed a positive increase to 1.9% from the previous value of -4.8%. Furthermore, today MI Inflation Expectation report was published with a decrease to 3.9% from the previous value of 4.1%. Ahead of the RBA's Financial Stability Review tomorrow, certain volatility may be observed along the way which might lead to significant weakness of the Australian dollar if the review results come dovish.
On the USD side, a rise in the US employment rate may contribute to a fall in the American currency in the coming days as high employments may be a sign of tame inflation. The Federal Reserve is not going to change its interest rate this year, though certain probabilities about rate cuts were discussed earlier. As the financial markets and President Trump's administration have been looking forward to lower interest rates while an economic slowdown is observed, the Fed is most likely to be unshakeable on the interest rate decision. Recently, the FOMC meeting was a bit neutral and slightly dovish which resulted in further weakness of the USD. However, the positive CPI report which showed an increase to 0.4% from the previous value of 0.2% may help USD regain momentum after certain spikes along the way. Today, the US PPI report is going to be published which is also expected to increase to 0.3% from the previous value of 0.1% along with several FOMC official's speeches including Clarida, Williams and Bullard.
As of the current scenario, the US positive economic reports as well as the Fed's dovish stance created certain market sentiment. At the same time, Australia delivered better economic reports with strong employment, so AUD managed to extend gains. Though the Australian currency is currently gaining momentum, if the US PPI report comes out with better results, then certain gains on the USD side are also expected to be observed in the coming days.
Now let us look at the technical view. The price is currently residing above 0.7150 price area, having regained strong bullish momentum earlier today. Thus, the price is expected to move higher towards 0.7200 area in the coming days. The price formed the Bearish Divergence along the way, so if it closes below 0.7200 area with a daily close, it can inject further bearish momentum in the process which is expected to lead the price lower towards 0.7050 support area again.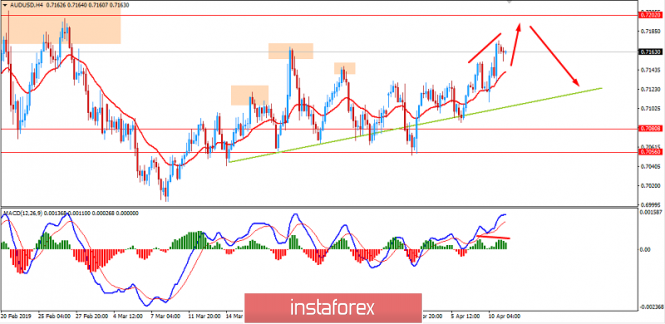 The material has been provided by InstaForex Company -
www.instaforex.com