Meanwhile, the Brexit delay did empower EUR leading to its sustainable gains over JPY. Even though the single currency struggles with the economic slowdown, it is anticipated to sustain the strong momentum as the BOJ chases the 2% inflation target.
The European Central Bank has been taking measures to overcome the economic slowdown, and its monetary policy decision is delayed until the economy significantly recovers. According to the regulator, several factors holding down the growth are temporary, and some developments are expected to take place by the second half of this year. The policymakers stated that the global trade growth was quite weak, while trade war was going to have its bite on the economy very soon as the US-Europe trade talks are in progress. Currently, the ECB sees the eurozone's growth at 1.1% instead of 1.7% initially forecast just 3 months ago.
The European budget is anticipated to complement the monetary policy, although there is not much information on this important matter. Today's Current Account report from the eurozone is expected to show a decrease to 33.2B from the previous figure of 36.8B, while the Final CPI is to remain unchanged at 1.4%. Moreover, the European Trade Balance is forecast to decline to 16.8B from the previous figure of 17.0B. Though the expectations are quite pessimistic, any positive outcome of these reports is likely to lead to notable gains on EUR side over JPY.
On the other hand, the Bank of Japan is ready to act with the monetary policy tools if any financial crisis threatens to destabilize the country's banking system. Japan's economy is still quite vulnerable, so the BOJ must act on the basis of potential risks emerging for the economy. Today's Japanese Trade Balance report was published with a decrease to -0.18T from the previous figure of 0.03T which was better than expected further fall to -0.30T. The Revised Industrial Production fell to 0.7%, while it was anticipated to remain unchanged at 1.4%.
As of the current scenario, both currencies in the pair are struggling with weak economic reports and economic slowdown. EUR is in the dilemma with the monetary policies, while JPY is likely to attract market sentiment better for a certain period amid the BOJ chasing the inflation target.
Now, let us look at the technical view. The price is currently residing below 126.70 to 127.50 resistance area with certain bearish bios along the way. The pair is expected to move downwards despite the current corrections and indecision. Though the price is still in a strong bullish trend, the pair may show some bearish movement in the coming days.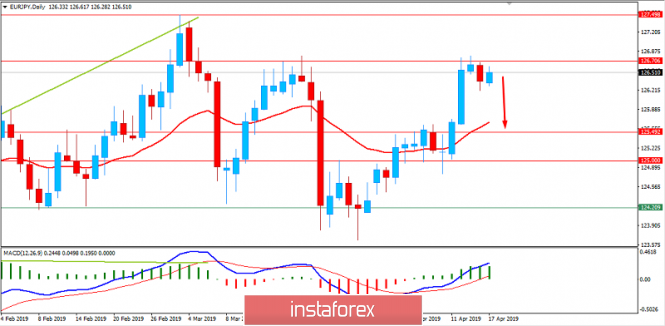 The material has been provided by InstaForex Company -
www.instaforex.com