The 6-month delay in Brexit did help the UK economy to avoid a sudden shock which had been expected recently.
Obviously, the British parliament's political indecisiveness lead to certain weakness. However, the country will recover after the Brexit issue is solved. Of course the deadline extension is not a total relief, but it will give to lawmakers some time to think and tackle the situation. When UK starts negotiations about its future trade relationship with the EU, tensions are going to get more intense. Instability and uncertainty will continue to weigh down Europe's economy, especially if the United Kingdom contests the EU elections.
Recently, the UK GDP report was published with decrease to 0.2% as expected from the previous value of 0.5% and Manufacturing Production dropped to 0.9% from the previous value of 1.1%, yet it managed to surpass the expected value of 0.2%. Despite the worse economic reports, GBP managed to sustain its bullish momentum against JPY which is expected to continue in the coming days.
On the other hand, Japan became a victim of the recent global imbalances such as the US-China trade war, BREXIT issues and global economic slowdown. These factors especially affected the country's export sector, the major support for the Japanese economy. Japan has recently called on G20 to strengthen co-ordination for taking on the potential risks on the global economy and finding the best way to handle them. Bank of Japan appreciates the gradual growth of the country's economy. However, there are concerns that the external pressures might cause significant fallout. Therefore, the G20 meeting's outcome is very important. Today's the M2 Money Stock remained unchanged at 2.4% as it was expected. Although, it did not help JPY to regain momentum over GBP indicating the weakness of the yen.
Now, let us look at the technical view. The price is currently pushing higher after the recent bounce of the 145.00 support area which is expected to lead the price higher towards 149.50-150.00 resistance area before any bearish intervention is observed. The bearish intervention is likely to occur in the coming days, while the price remains below 150.00 area.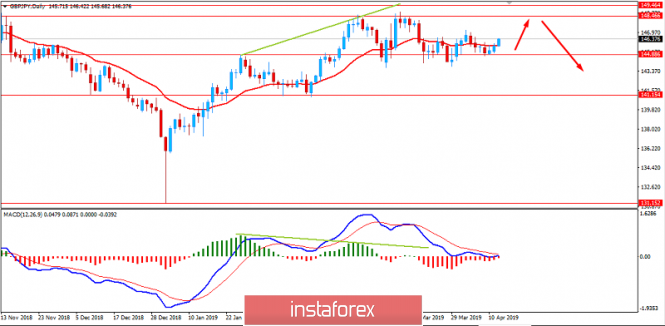 The material has been provided by InstaForex Company -
www.instaforex.com