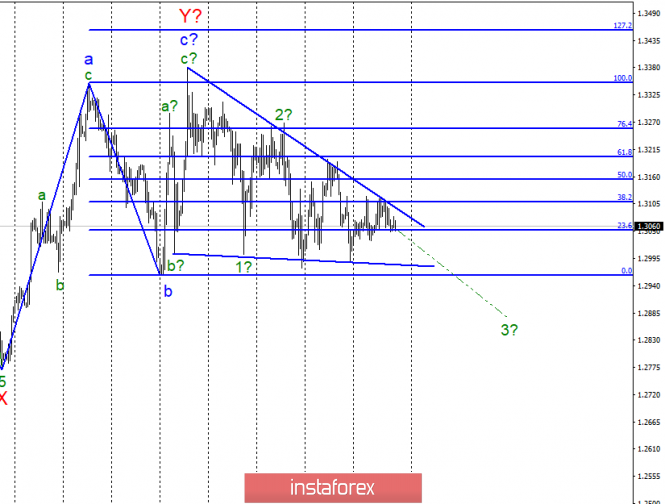 Wave counting analysis:
On April 11, the GBP / USD pair lost a few dozen base points, and again this is not enough for the instrument to leave the limits of the narrowing triangle. Now, we can assume that the pair will again fall to its lower line. However, in the coming days, the instrument still has to leave the triangle, since there is simply no other option. Based on the current wave marking, it is still assumed to build a downward wave as part of a downward trend. The news background for the couple is now neutral, since Brexit was postponed for 6 months and, accordingly, no major decisions were made.
Purchase goals:
1.3350 - 100.0% Fibonacci
1.3454 - 127.2% Fibonacci
Sales targets:
1.2961 - 0.0% Fibonacci
General conclusions and trading recommendations:
Wave pattern involves the construction of a downward trend. However, as long as the pair makes a successful attempt to break through one of the lines of the triangle, the bidding will take place inside it. The news background today is likely to be absent, and I expect the tool to fall to the bottom line of the triangle. A successful attempt to break through the top line will be a strong enough signal for small purchases.
The material has been provided by InstaForex Company -
www.instaforex.com