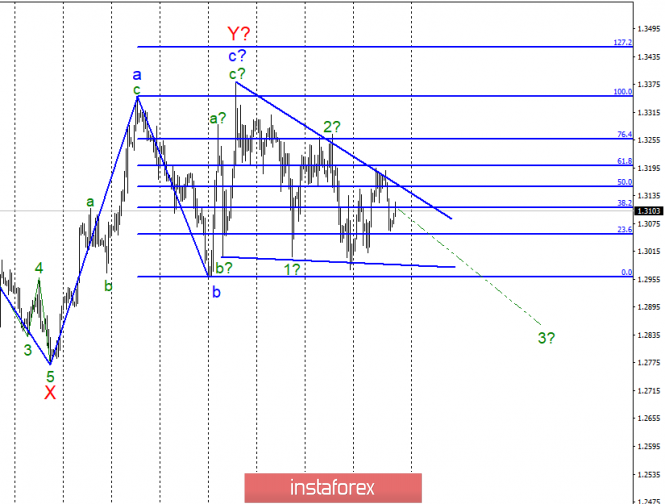 Wave counting analysis:
On April 4, the GBP / USD pair lost about 85 bp, and there was a failed attempt to break through the upper line forming a tapering triangle. Thus, the chances of building a downward wave have increased, but at the same time it will be difficult for the instrument to also pass the lower triangle forming line. A few days before the area of maximum narrowing of the triangle, the pair can bargain inside it. A further breakthrough of one of the lines will tell the market which way the instrument can move in the next few days. Any news on Brexit can greatly affect the movement of the tool. Although, at present, there are no new important messages.
Purchase goals:
1.3350 - 100.0% Fibonacci
1.3454 - 127.2% Fibonacci
Sales targets:
1.2961 - 0.0% Fibonacci
General conclusions and trading recommendations:
Wave pattern involves the construction of a downward trend.
However, as long as the pair does not break through one of the lines of the triangle, trading can take place inside it. This will, in turn, limit the markets of the possibility to open various medium-term and long-term transactions.
The material has been provided by InstaForex Company -
www.instaforex.com